Part Two: Or, the landscape of archivist professional dialogue (Part One here)
Perhaps the most disconcerting thing about the announcement of the #thatdarnlist shutdown wasn't the rampant denialism of longstanding problems, but the fact that a lot of A&A subscribers seemed to be genuinely baffled about where to find information about the archives profession after the list is shut down at the end of 2017.
Archivists are information professionals. That a bunch of information professionals are melting down about where to find professional information is truly bewildering. Or as Matt Francis put it: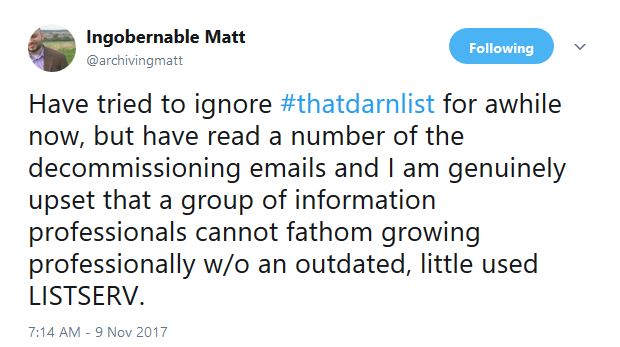 Seriously, y'all.
So as an act of public service (you can and should thank me for this labor by buying me a beer the next time you see me) here are some of my recommendations for "How to be a professionally conversant American archivist in 2017". This isn't meant to be an exhaustive list, but it is fairly reflective of the way that I consume professional content. I tend to focus on the American archives profession, and I hope readers will contribute non-US suggestions in the comments.
I can already hear someone howling "but I don't have tiiiiiiiiiiiiiime to review all these sources." If you want to be treated like a professional, you need to act like it, and that means being conversant with the ongoing conversations in your profession. No one is saying you have to read everything, but you have to pay attention to something on at least a semi-regular basis, or else quit calling yourself an archivist. I have Additional Strong Feelings about this that I'll save for Part 3.
Peer-Reviewed Literature
Why you should pay attention to it: Even with peer reviewing's myriad nonsense (and there is so much, but trust me when I say it's a million times worse outside of the archives profession), there is no substitute for a process that allows people to call you out on your bullshit. I sometimes see questionable assertions (aka hot takes) by archivists bubble up on social media or blogs that I know would not last through peer review if the person had to marshal evidence for their claim. At its best, peer-reviewed literature can have long-lasting impacts on practice (Greene and Meissner!), provide inspirational reading that feels as relevant today as it did when it came out decades ago (Gerry Ham!), and provide a clear ethical framework for moving our work forward (Michelle Caswell!)
My favorite resources: Many of you might know I created an entire calendar assigning reading days to prominent journals in the field. Since I originally created it for the type of reading I need to do for my work, it skews heavily towards American archives and academic libraries. It's due for an overhaul, but I think it's a handy tool and I'm always delighted to hear other people find it useful. (github version if you want to adapt for your own needs)
Blogs
Why you should pay attention to it: Blogs occupy that nice space between needing to say more than can be said via social media, but with greater immediacy and casualness than peer review demands. Within archives-land, there are repositories that have blogs, there are archival organizations that have blogs, and there are archivists that have blogs. A lot of the prominent archivist blogs from several years ago are far quieter these days (ArchivesNext, You Ought to Be Ashamed, Chaos->Order) which is a bummer. Those blogs were sites of incredible archivist dialogue, and I sort of miss blog comment-oriented discourse.
Individual archivist blogs are a gold-mine, since many of us tend to put up copies of conference talks (which often never get published elsewhere). If you're an archivist who does talks and you don't have your own blog, please put something up so we can share your work and give your conference talks a second life!
My favorite resources:
Social Media
Why you should pay attention to it: Social media – and especially Twitter – is often scapegoated whenever discussions about A&A come up. I think this is unfair, because it tends to erase how useful it can be, particularly given the exodus of many archivists from listservs to Twitter. I have as much of a love/hate relationship with social media as the next person, but I think there is an undeniable amount of fantastic knowledge you can pick up from Twitter. Speaking only for myself, Twitter has helped me find professional development workshops, calls for papers, interesting conferences, and a good sounding board for "Has anyone ever….?" questions.
The free-for-all nature of Twitter is part of why it's an environment so prone to hostility, but the fact that it isn't a walled garden also helps make it a very interdisciplinary experience. I've discovered the work of a lot of environmental studies people through it that otherwise would have been far more difficult to find via other avenues. Social media deservedly gets a lot of flak for enabling a build-your-own-echo-chamber space. At the same time, I don't think Twitter gets enough credit for fostering the ability to easily find voices you might not normally encounter. My work has been undeniably improved by listening to many voices on Twitter from marginalized groups that often are not represented in peer-reviewed publications, as conference headliners, etc.
Because Facebook is a walled garden, it lacks both the best-of and worst-of Twitter experiences. And I think the jury is still out on mastodon – I have an account on scholar.social, and there are a few archivists there, but it doesn't yet feel like a critical mass.
My favorite resources: I know there are a lot of archivists and archival organizations active on Facebook, but for my money (well, time) Twitter is where I've gotten the most value. Almost all of the bloggers mentioned above are active or semi-active on Twitter, and are great people to follow. If you're not currently active on archivist Twitter and want to give it a try, I think a good time to dive in is during conferences, when you can use conference hashtags to quickly identify interesting users. Some archivists on Twitter only talk about archives, some talk mostly about their personal interests, and others fall somewhere in the middle. Lots of people maintain lists of archivists on Twitter (like Kate Theimer's  list) which is a quick way to follow lots of users at once.
Podcasts
Why you should pay attention to it: Alright, let me say out of the gate that this is a thin area at the moment, and I really hope we start seeing more archives podcasts. There is a lot to be said for non-textual mediums as sources of learning new things. At MAC 2017, there was a great session about podcasting, though it was more of a "archives doing podcasts about their holdings" than an "archivists doing podcasts about the profession" vibe.
What are my favorite resources: It's no longer active, but there was a good podcast running for a brief period between 2013-2014 called More Podcast Less Process. Lost in the Stacks is a radio show hosted by librarians and archivists from the Georgia Tech Library, and they also distribute the show as a podcast. There are rumors that the reviews folks over at American Archivist are working on a podcast, and I am super pumped to see what they come up with.
What's Next?
I have a long wish list for the archivist information & professional discourse ecosystem. Who knows if it will all ever be realized, but it's fun to speculate. Look for that in Part 3!