Professionals Without Professionalism, Part 1
The big talk of the town right now within the American archivist profession is that a major listserv, known as Archives and Archivists, or A&A, is being shut down at the end of 2017. A&A is administered by the Society of American Archivists (SAA), and has been in existence for well over two decades. SAA is a membership-supported (i.e. dues-paying) organization, though non-members have long been able to subscribe to A&A. A&A has such a longstanding notorious reputation within the profession that it has its own derogatory nickname that's been in use for years – #ThatDarnList (almost always hashtagged because it's most frequently deployed on Twitter, where's it's been in use since at least 2009).
Why is A&A so notorious? Simply put, because A&A has a long track record of being a hostile environment for many archivists – especially women, people of color, and young/early-career archivists. Many archivists have written about this, these links from the last few years give a good overview:
https://storify.com/Zanish/thatdarnlist
https://archivasaurus.wordpress.com/2014/01/27/are-we-a-profession-or-arent-we/
http://annajcook.blogspot.com/2014/05/once-upon-listserv-thoughts-on.html
https://offtherecord.archivists.org/2014/06/27/the-de-evolution-of-the-archives-and-archivists-list/
https://thefeministlibrarian.com/2014/09/10/in-which-i-write-letters-open-letter-to-saa-re-thatdarnlist/
https://concernedarchivists.wordpress.com/2017/08/15/thatdarnlist-the-saga-continues/
It is also a problem that SAA has increasingly acknowledged since 2014. Read these two reports from the organization:
2014: https://www2.archivists.org/sites/all/files/0814-1-IV-D-A&AList.pdf
2017: https://www2.archivists.org/sites/all/files/1117-V-A-A&AList.pdf
Lest you think this problem has been brought on by "snowflake leftist social justice warrior" millenials who eat too much avocado toast and complain about unpaid internships, A&A has had a bad reputation way before anyone coined the term millenial. Things apparently got pretty wild in 1992-1993. Don't believe me? Well go back and read these two pieces from American Archivist.
Frank Burke (1992) Letting Sleeping Dogmas Lie: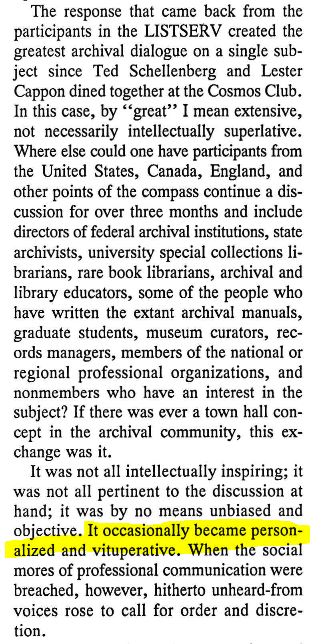 Anne Kenney (1993) SAA Is Us: Promoting Participation in the Work of the Society: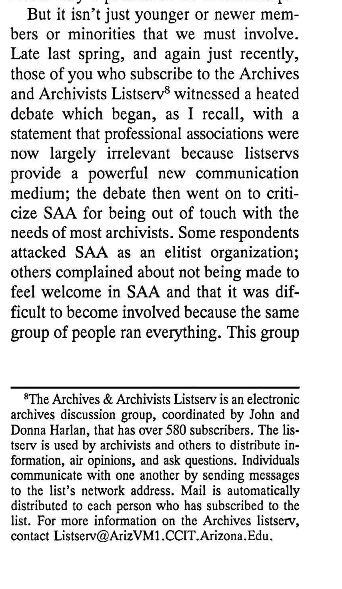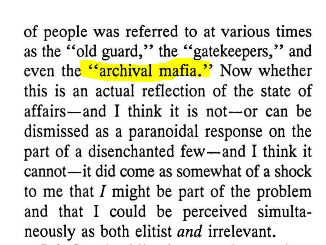 Like many other archivists, I've cheered the recent decision by SAA Council to end the listserv. I left active subscription to A&A a few years ago and have not returned. I have personally encountered the hostile atmosphere of A&A, and it's become increasingly embarrassing to see how bullshit on the listserv comes off to new archivists and information professionals who are adjacent to archives. Archivists claim to be professionals, but judging from the listserv, it's hard to see where some of our fellow archivists could actually claim any sense of professionalism. A&A has not been a good resource for years – many of the most knowledgeable people in our field left it long ago. In fact, the toxicity is now so notorious that it's getting written about outside of our field. Somehow I don't think this is the kind of public awareness that the Committee on Public Awareness had in mind.
SAA has said that it will be exploring other avenues for communication platforms in the coming months. SAA already hosts a number of other listservs – each of SAA's sections have listservs, and non-members are allowed to subscribe to up to three of them.
One of the larger conversations provoked by the shutting down of A&A is the question of staying professionally involved. According to the #thatdarnlist hashtag, many of the subscribers to A&A are now concerned about losing access to this source of information about the profession. I've encountered a similar sentiment on a regional archivists listserv, and I find it strange. More on that in a forthcoming post.
---
Categorised as: professionalism, SAA
---