Pack Your Bags Archivist Style
Between late March and mid-May, I attended three conferences (Chicago, Omaha, New York), marched in one protest (Washington DC), and gave one invited talk (Yale). I've always been a pretty good trip packer, but after all this travel I have it down to a science. Now I feel the need to help people save themselves from their worst packing instincts.
I have always been a light packer (I once traveled an entire week in frigid December Berlin with just a purse and a small duffel bag), and my experience section-hiking a 300+ mile trail last year made me even more ruthless about packing. Hikers take a lot of pride in finding ways to shave ounces off their load, and not bringing home anything they didn't use at least once (and preferably multiple times) on the trail. I try to apply the same philosophy to packing for any personal or business travel, especially if it involves flying.
Flying is a totally unbelievable hellscape, and packing lightly is one of the few things within one's increasingly narrow window of control I can make choices about that helps me maintain some notion of sanity. I have the same packing practices whether I'm on vacation or work.
Like IUDs, packing lightly is one of those things people tend to obnoxiously evangelize without realizing it's not possible for all people (folks with medical equipment, parents with small children, etc). So I should preface this by saying when I pack, I really only have to worry about myself. Whenever I travel with my husband, the most entangled our packing gets is sharing a bottle of contact lens solution.
Buy the best luggage you can possibly afford, and if you have the physical ability, choose a squishy bag that can convert into a backpack instead of a roll-aboard. I am a big fan of a smaller squishy bag because the gate agent rarely makes you gate check it, you can jam it into the smallest overhead bins, it's easier to make a mad dash across an airport terminal with something on your back than dragging behind you, and roll-aboards are almost too much room.
Bad luggage eventually becomes demoralizing if you travel often. A few years ago the handle on my crappy roll aboard totally fell apart on the D.C. Metro right before SAA. There are good carry-on rolling suitcases out there, but I prefer to save them for super long trips where I don't want to do laundry, or road trips. My main MO is to bring my main bag for clothing and shoes, and a smaller everyday bag for my "daily" items. Since I often do not stay at the conference hotel, the everyday bag has to contain my electronics, a water bottle, notebooks, a couple snacks, and room for a light sweater and be light enough to carry for a 15 minute walk from my hotel.
It's expensive as hell, but I finally started buying good luggage and bags primarily for my work travel. I really like Tom Bihn (and it's made in the USA), and I'm currently using the Western Flyer and the Co-Pilot.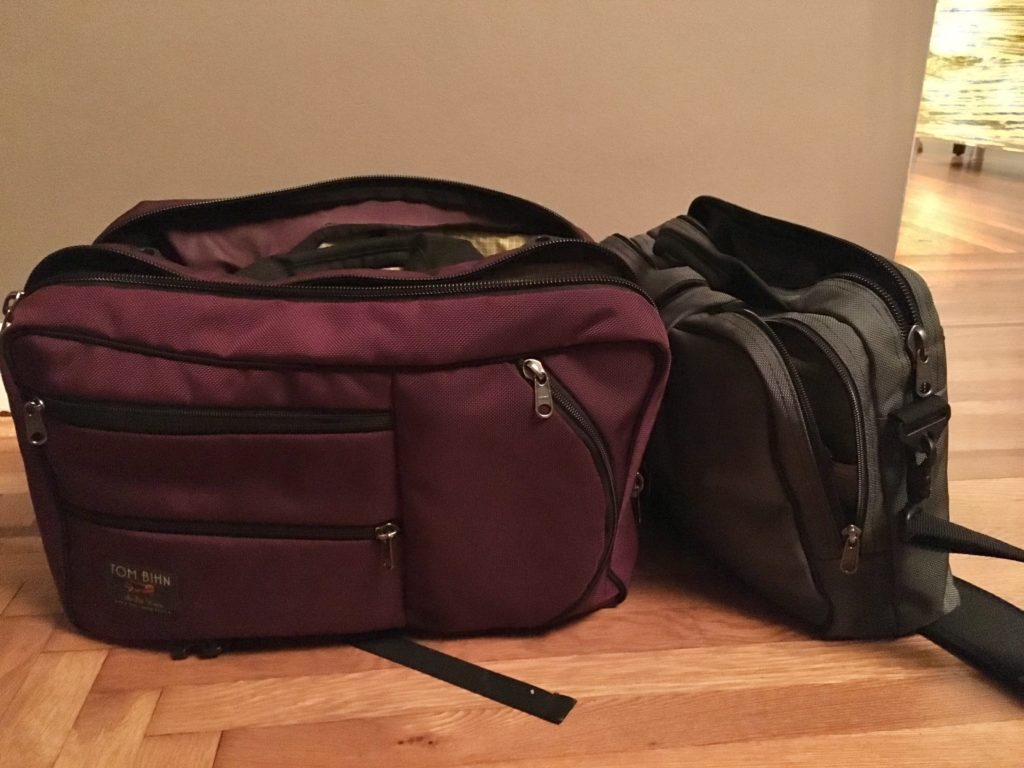 Join the cult of packing cubes
Packing cubes seem like total bullshit until you start using them to corral your clothes (basically anything that can be rolled up like a burrito) and then you NEVER. GO. BACK.
They are like some combination of Felix the Cat's bag of tricks plus the Chronicles of Narnia wardrobe where you can somehow keep on squeezing things into them that you can't otherwise squeeze into the intimidatingly narrow space of a small squishy space of your main clothing bag. I have a set of them, but I usually just use 1 or 2.
Because a huge part of my travel experience is informed by "How much will TSA make my life unpleasant at the airport?" Packing cubes have the additional advantage of preventing the indignity of having your underwear catapult itself over some germy inspection table the second you start unzipping your bag.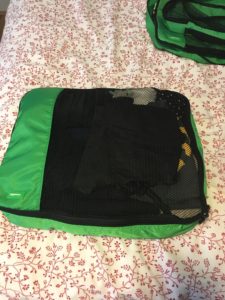 Unless it's made of paper, pack everything else in pouches or ziploc bags
Just like packing cubes corral all your clothing, you need to corral your other gadgets, tchotchkes, geegaws, and flotsam. I have little zippered pouches I use for makeup, snacks, pencils, cords and chargers, and essentials (wallet/phone/transit card). I store my shoes I'm not wearing in drawstring cloth bags so they don't get grossness over other stuff. I use two ziploc bags for toiletries (dry and TSA-screening). That bag on the bottom comes from archivist Allana Meyer's shop where she donates proceeds to the SAA Mosaic Scholarship.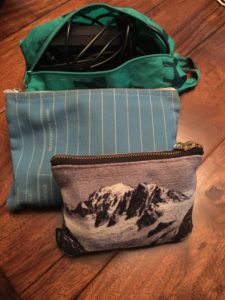 If you must be separated from your suitcase, pack a toothbrush and clean pair of underwear in the bag you keep with you.
Once upon a time, I got caught in an awful delay/red-eye/layover mess that almost led to me missing a friends wedding. I didn't have access to my main luggage, and not being able to change at least one article of clothing or brush my teeth made the entire experience that much more miserable.
You don't need as many outfits as you think
If you are smart about what you pack, immediately hang up your clothes to air out, and hand wash the ones that get stinky, you can often get away with 4 outfits even if you're at a conference for a week (your plane outfit*, a work-casual outfit, a work-work outfit, and a dressy work outfit). If you really need to, at some point you can do laundry. Many hotels have a washer/dryer, you can find a laundromat, or you can use drop-off service.
Let me explain the plane outfit. This is what you wear from leaving your house to your destination and vice versa. This should strike some combination of comfy enough in case you suddenly find yourself in airport purgatory, flexible enough that if you have to sprint to your gate you can, quick enough to delayer and deshoe at security, but also protective enough that you don't feel even more violated if TSA pulls you out for a pat-down.
I wear skirts and dresses for probably 3/4 of my waking hours, but I always wear jeans and sneakers when I go to an airport. Once in a while TSA selects me for state-sanctioned bodily assault an enhanced pat-down, and I shudder to think of how much more invasive this would almost certainly be in a skirt.
This is actually what my fully packed suitcase looks like: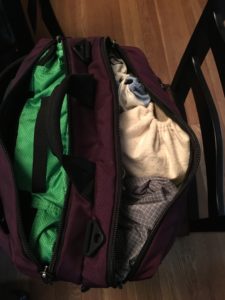 Rethink what electronics you really need to bring
Laptops are heavy. I've stopped bringing mine because it's not worth the weight. When I'm at a conference, I don't need that much computing power. And depending on where you fly, you might be restricted from traveling with one anyway.
Are you tired of me talking about TSA yet? Well so am I. You probably know that airports are the new testing ground for how much bullshit the combined powers of capitalism, policing, and surveillance can get away with, whether we're talking about your right to travel in the first place, your right to not be shamed for your body or groped by some blue-gloved stranger in a uniform, or your right to privacy, especially the privacy of your digital life.
So far, it seems like most of the searches of people's digital lives are taking place in the context of international flights, through CBP. CBP currently has the legal right to search your personal digital effects due to the greatly expanded powers for doing searches within areas of the US border (PSA: if you want to protect your digital privacy while traveling internationally, this guide from the EFF can help) To be clear, CBP is a different agency from TSA with different policies and procedures, though they are both part of the Department of Homeland Security. That said, my personal experiences with TSA are so abysmal that it would not surprise me if they begin to push for expanded power to search people's digital lives even for domestic travel.
For the last few months, I've been traveling with minimal digital data whenever I have to fly. If you do any kind of activism, or are friends with any activists, please consider carrying only the minimal data you need when you travel lest you find yourself in a situation where the Fourth Amendment no longer seems to apply. You may also want to consider having dedicated travel devices, like a Chromebook or a pay-as-you-go mobile phone.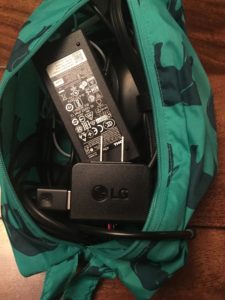 Even if you don't use cash at home, pack small bills for tipping housekeeping
If you didn't know you were supposed to tip housekeeping every night of your stay, I'm here to inform you that you really need to do this, no excuses. If you can afford a hotel room, you can afford $5 every day for the people who clean up after you. Especially because those people are usually women who work for shockingly low wages and literally do back breaking work. Tip every day, not just at the end, because you may have different housekeeping staff at the end of your stay than at the beginning.
Books are the devil unless they are the size of Oxford Very Short Introductions, bring magazines instead.
I like to bring a trashy magazine along with something that's a little smarter. I'll let you guess which one I usually finish first.
Pack frou-frou items that make you feel at home (for me, it's a bathrobe and face masks)
If you aren't packing a full-length fluffy bathrobe, most knit or silk bathrobes pack down pretty small, and are a really nice item to have around when you want to lounge in your hotel room. My skin always looks like shit when I fly (or maybe just when I go to New York), so I like to pack some bourgie face mask stuff I can put on after I get back to my hotel room. It's a good excuse to splurge on one of those super creepy mummy-esque sheet masks. I avoid wearing them at home lest I scare the shit out of  my husband and cat.
Pack something that offsets a tiny amount of the disposable culture of travel

Travel involves a horrific amount of trash. I always pack my small Nalgene bottle and a coffee mug. I also have this cute little set of reusable bamboo flatware I toss into my snack bag.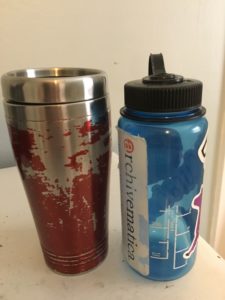 You are only allowed to overpack one thing, so choose wisely. I choose a couple extra pairs of clean underwear.
'Nuff said.
---
Categorised as: life
---