What I Learned From my Sheltowee Trace Section-Hike
So I now have my Sheltowee Trace section hike behind me, and in fact, the Class of 2017 is starting out on their first hikes. I'm so glad I committed to hiking the entire trail, because it taught me a lot about how to be an effective hiker, and it fostered a deep and abiding love for my neighbors on the south side of the Ohio River.
The Gathering is the end of year celebration when the new class is inducted, news about the future of the Sheltowee Trace Association is shared, and people celebrate the many friends of the STA who contributed to the progress of the trail over the last year. We all shared much delicious food together at the celebration. I have to figure out how to use these wonderful patches: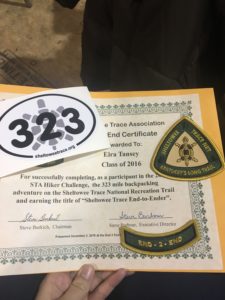 To summarize my experience, I want to share a list of 10 tips and takeaways for new hikers (whether you're embarking on the Sheltowee Trace Class of 2017, or just resolving to hit the trail more in general):
Start maintaining a gear spreadsheet for every overnight hike you take. Check things off as you load them into your pack. I created one that had my entire gear list for each month. Then by the time the November hike came around, I was able to simply reuse the sheet from January and tweak it with some new changes. If you have a kitchen scale, you can use it to weigh your gear and make smart choices about where to shave off ounces.
New hikers tend to stop a lot because of organization issues. As you hike more, you'll get better at realizing what you need to have close at hand or how to dress so you don't take off your pack every nine minutes. For me, this meant taking off a layer right before I hit the trail (but storing it someplace accessible for when I took a break), and ensuring my hip pocket had at least two snacks so I could hike for at least 60-90 minutes without stopping.
My best and nerdiest navigation technology hack I came up with during the year was to take a picture of my paper map and then store it on my iPhone lock screen. That way I didn't have to dig out and unfold my map all the time.
Washi tape is the best way to mark up your maps. I use it to mark three X's on my paper maps – the beginning point, the campsite point, and the ending point. This would help me quickly find where I was and how much I had left to go.
I get very freaked out by hiking in the dark unless the trail is very obvious and I'm with a big group of friends. I learned the hard way that when you're hiking in the foothills, the time given for sunset isn't necessarily the actual time it gets dark. If you're hiking in a valley, it might get dark enough to significantly reduce visibility long before actual sunset. Always make sure your head lamp is easily accessible and has extra batteries just in case!
Remember that not only may you not have cell service on the trail, you might not even have it on the last several miles on the drive to the trailhead. Download any offline maps or send any texts by the time you exit off a major highway just to be on the safe side.
Going stoveless in the summer is amazing. You should give it a shot at least once. "But coffee!!!" I hear you caffeine fiends screaming. Starbucks Via Iced Coffee packets work just fine if you dump it in a bottle of water and shake. I was able to hit the trail so much earlier in the summer because I'd pack up my gear, and then eat breakfast while hiking the first couple miles on the trail (iced coffee sipped from my bottle and nibble on a clif bar).
I was rarely did it consistently, but yoga or deep stretching before you go to sleep really helps with sore muscles the next day. Along with popping an Aleve right after dinner.
Hike your own hike. As long as you aren't endangering yourself or others, and try to practice Leave No Trace as much as possible (there's rarely a good excuse to cut switchbacks!), there is no right or wrong way to hike.
People often think of hiking as a hobby, but the truth is the skills it gives you are so much greater than what you can use just out in the woods. I am now a better suitcase packer because of so many hours learning how to organize my pack. Recently, I was in Las Vegas and while walking through a casino, some creepy guy tried to grab my wrist to talk to me. I whirled around and shouted NO! in an assertive "don't f–k with me" kinda voice and walked away. After a few minutes, I realized this is the exact same way I reacted to dogs who snarled at me while I was hiking on country roads. And finally, the trail teaches you what you don't know, which is a humbling experience. This year I began to realize how little I know about forests and tree identification, or geology, or how land protection decisions are made. It's good to be reminded that there's always more to learn.
In addition to ensuring you have the classic 10 essentials, these are my 10 personal favorite gear essentials:
---
Categorised as: outside
---