Sheltowee Trace: Section 4 – 700 trailhead lot to Highway 192
Dates: April 9-10, 2016
Weather: Clear and cool on Saturday, clear and late afternoon drizzles on Sunday
Section: 700 Trailhead lot near Indian Creek to the Highway 192 trailhead lot
Miles: Saturday – 15.59 miles, Sunday – 17.31 miles [Sunday disclaimer: I got a bit lost around the marina and backtracked a couple times, which added on probably a half-mile to mile] (scroll to bottom to download GPX tracks for your GPS device or app. The miles displayed in the wordpress plugin are different than what the Gaia app says, which is what I list in this top section. You can also visit my Sheltowee Trace folder on GaiaGPS. Hikers be aware that miles tracked in GPS are usually longer than the miles noted on the official Sheltowee Trace maps.)
This is going to be a picture-heavy and text-lite post, for a handful of reasons:
It was a beautiful section with pretty good weather
Less mileage this month meant more time to stop and enjoy the scenery
I'm in the final countdown to my wedding (this Sunday! yes, I went on a hike the week before my wedding, and I don't regret it for a second) so I really want to get this out before we enter full-on wedding mode.
For much of the day the trail followed the Cumberland River. For the first part, it was on our right. Unfortunately the first couple miles had a lot of trash, I suspect due to flooding/previous high water levels.
Soon we crossed a bridge, and the river was on our left.
Occasionally the Sheltowee turtle blazes are not in front of you, but at your feet!
There was a snack bar at Cumberland Falls that we all stopped at, and I went over to look at the falls.
After the falls, the trail heads back into the woods with lots of beautiful scenery on the way to the shelters.
Occasionally nature is interrupted by something a bit more man-made…
At one point, the Sheltowee is briefly re-routed away from the edge of the river. Here's the reroute sign.
The Sheltowee Trace is full of colorful place names — like Dog Slaughter Falls. But sometimes it's better not to think too much about how they might have gotten those names!
There were tons of beautiful sweet little wildflowers out on this hike. Here was some purple trillium:
One of my favorite things about the Sheltowee Trace is the consistent dramatic rock formations.
The first Adirondack-style shelter is Star Creek shelter. Some of us stopped there to rest out legs for a few minutes and to have a snack.
We don't often see critters on our hikes (probably too many of us crashing around making noise!), but we do see their evidence everywhere, including beaver cuttings:
Two miles later we got to Bark Camp shelter. Don't you love the old-school Leave No Trace sign?
Sunday morning brought some scrambling to get out of camp — there is a very steep and eroded climb up Bark Camp. Shortly after that there is a big bridge (despite what the ominous sign 5 miles back at Dog Slaughter Falls warns, the bridge is in excellent condition – the only scary part is getting up the hill to it!).
A number of folks got a bit turned around at this point — when you get off the bridge, turn left to stay on the Sheltowee!
In addition to the wildflowers, there were tons of fiddlehead ferns out:
Hiking the Challenge with a friend is always a different experience than hiking it by yourself. They both have their pros and cons, and I enjoy both in such different ways it's not totally fair to compare them. And anyway, you're never truly "alone" during an entire weekend, you inevitably end up hiking a little while with others and then drifting apart and leap-frogging again, then finally seeing them at camp, which I really enjoy. I definitely missed Susanna's presence this weekend. At the same time, because I was on my own a week before my wedding, I also enjoyed a few moments of deep reflection I'm not sure I would have had otherwise. One of them happened at this pretty bridge over a babbling brook, and I stopped for a few moments to bask in gratitude for the beautiful day, good health, and getting to marry Justin.
At the mouth of Laurel, the trail goes down to the end of the road. I never get tired of the font on the National Forest Service signs. If the NFS ever attempts to change it, I'm pretty sure I will start the nation's biggest petition drive.
I have a bumper sticker on my car that says "Archivists make it last longer" but I think this car beats it in terms of immature occupational humor:
When the trail goes back into the woods, you go through a small area that's covered with kudzu. Some ST volunteers have done a good job cutting it back so we could get through.
Another aspect of hiking on your own is the need to be extra vigilant in situations where you could lose your footing. Here's a good example — this is actually a rocky stream crossing. I probably could have crossed on foot, and may have if someone was with me at that moment, but I was worried about losing my footing on the big angled boulders. So I engaged in probably my favorite way of getting around precarious areas — scooting around on my butt. You look silly, but more importantly you stay safe!
I love that this section had both old paint blazes and new sign blazes, sometimes right next to each other:
After a few miles, you get a glimpse of the Laurel River spillway. Shortly after that is the dam.
After the dam I didn't take as many pictures — I had a pretty heavy pack that weekend (carrying tons of insulation for the chilly Saturday night in my hammock), and by this time I was getting tired and my pace was slowing considerably. Also, hikers take note — after the Laurel River dam, the trail is hardly blazed. At one point, I kept moving towards the marina, when I should have taken a left (if you look at the Sheltowee Trace map, it's around mile marker 203).
I got a little off kilter finding my way back to the trail, so I called Steve and Laura for help. They came out to find me, and of course I was only about 100 yards from the trail. Thanks to them for keeping me sane.
The rest of the hike was fairly pretty, but I had to keep my map handy since there were a couple of spots that weren't blazed well.
This is a good example of a confusing area — at one point the trail pops out of the woods, and to the left there's a hill, and to the right there's a sandbar across Ben Branch of the lake. It's not obvious, but go to the left up the hill.
There are many mountain bikers around this section, and this must be a joke among them. I thought it was amusing.
I look forward to seeing everyone next month after getting married to my favorite dude — in the mean time, since he's not much of one for backpacking, here's a picture of us day-hiking at Hocking Hills last summer.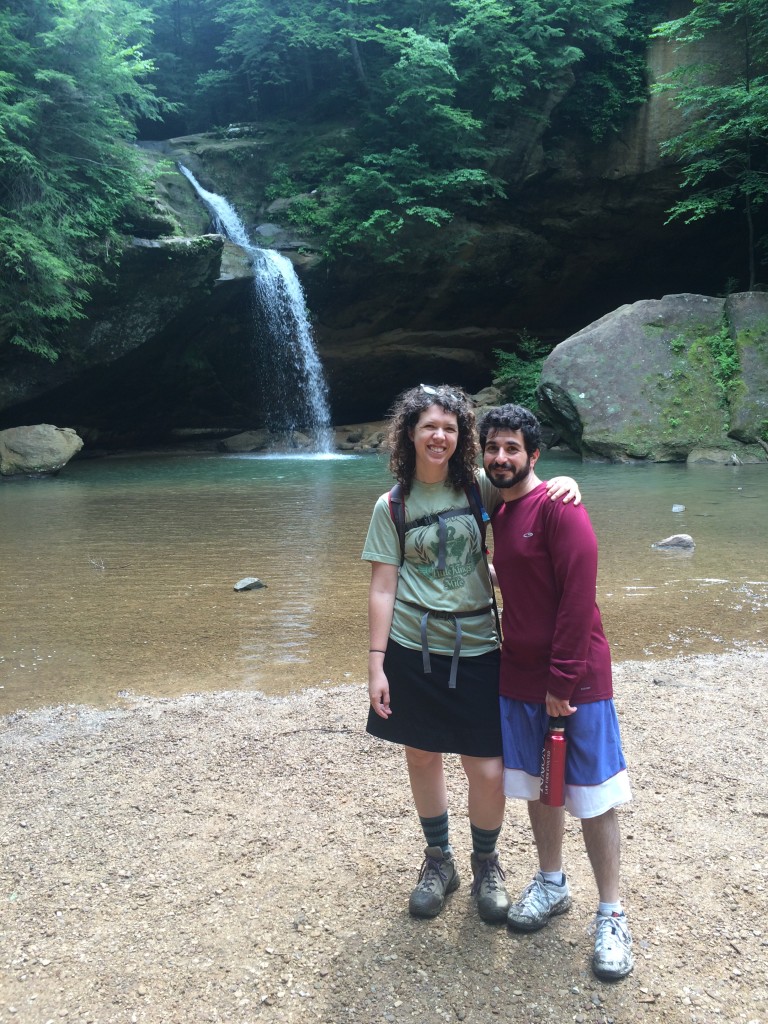 Saturday track:

Download
Sunday track:

Download
---
Categorised as: outside
---